1883
Some time in Jan. Ozro O. sold our house and lot to J.Z. Stuard for $600.00 that same month the small pox broke out in Logan and the whole town were excited. The patients were strictly quarentined in a house on the out side North east of Logan.
Ozro O. bought 80 acres of good faming land with a cheap three room lumber house on it. The walls were filled with Sail. [fn22]

Archie Lamoreaux bought the 80 farming on the west, and Ozro and I homesteaded the quarter section. It is in Preston Idaho

. Archie's part also had a house on his acres.
The furniture belonging to both families went by team. Ozro O. and Archie started off with it on the 8 Feb. The people could not move out of our houses untill 1st of March so we rented a house near Worm Creek Bridge and the two families moved in and kept house togeather for a month. We moved in the winter because the small pox was spreading and schools, dances, shows, meetings and all public geatherings were closed, and we were afraid the whole town would be quarentined. On the 9th Feb. Lydia and I with our four little ones (We each had two) went by freight train to Preston Idaho. The passenger train ran at night. [fn22.1]

I felt rather sad at leaving dear old Logan where we had all grew up. We arrived at Preston Station at 8 O'clock evening. Our husbands were there to meet us with sleigh. They bundled us all up in quilts, which kept us warm all the way to our destanation. We got along just fine. We had all been vaxenated before we moved from Logan and we did not any of us take the small pox.
On the 13 of March we moved into our own houses. We were all very happy to be settled again. I liked the place just fine. We had several callers but only returned one call that was to brother John Marins who (he and family) proved to be very nice neighbors. During the summer I made two trips to Logan on a visit and I also made a visit there in the fall. Ozro O. took me for a good many rides around the country which were indeed pleasent. He was away from home much the time taking orders for the book Dr. Chase's Recipes a very good book. He made quite well and helped out in fencing our farm etc. During the summer our children was quite well. Ozro put in all the time he could working on the canal the people preparing to get water for their land. [fn22.2]

This time he went Nov. 28th he was 27 years of age the next day. Our children and me stayed with Lydia while he was away that time.
He returned home a day or two before xmas and we were all very happy to have him with us again. While he was absent this last time, little Ruth was very sick, but was well when he returned.
On the 26 Dec. we held our wedding Anni. at Lydia's and Archies. She prepared a very nice dinner. We have now been married five years. On the morning of that day Ozro O. presented me with a beautiful book "The Royal path Of Life." I was surly quite charmed with it and took a log of joy reading it through.
Lines from my little book. "To over come self in the true spirit of manliness, no easy victory ever produced any great result. It is the hand to hand struggle that carries the field." -- Kris Well. [fn23]

One evening in December towards the end of 1883 at the supper table Ozro O. remarked to his me, 'Well dear how would you like me to go off with Archie deer hunting and be gone two or three days?' I answered I would not like it, however if he would like to go to do so, we at home would get along alright. He replied that he did not care to go, the weather being so very cold and Lydia and I ought not to be left alone with all the chores. Yet he hated to see Archie go alone, for he seemed determined to go, he was so fond of hunting. So Ozro O. gave up going and next morning went over and talked with Archie and told him he had made up his mind not to go. But Archie could not make his mind that way and said that he could see no other way to get his winter meat. So Saturday morning Dec. 29, 1883, Archie was all ready and started with team (One horse Ozro's) Bobs dog and plenty of quilts. Arrangements were made for Lydia and their two little children, Orrell and Ray to stay with her brother Ozro and family and he took care of all the chores. It seemed as tho each day grew colder and they were often thinking and talking of Archie and felt like he should not have started off alone. The last night in the Old Year was the coldest and most terrible. Every thing in the room where they had a fire (thru the day and evening) froze that could freeze. They could scarcely keep warm in bed with plenty of quilts. Lydia said she was cold all night, she was not well, she was threatened with rheumatism.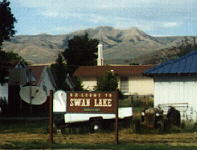 Swan Lake 1995
Well Archie was brought home on the train from Swan Lake, Jan 2, 1884 and was carried in to his home by two men and the neighbors boys, Dell and France came to our home with tears in their eyes and told the sad news. Ozro and Lydia were soon at home. They started a fire and tried to make Archie comfortable. His feet and hands were badly frozen. He was out in the hills all thru the last night in the old year. He left his outfit at Gorden Beckstead's farm in Swan Lake and took one horse and thought he would go up in the hills a while and the Becksteads would go with him the next day. He tied his horse to a tree and left his overcoat, took his gun and went up and down and among the hiss hunting. He finally wandered back, night overtook him and so he built a little fire. There was not much to burn. He hovered over that little fire all night holding his hands out to the blaze and keeping a wake there by he kept from freezing to death. The next morning he crawled somehow until he found his horse tied to the tree. Somehow he got on him (it seems by some unseen power) and rode in to Swan Lake to Gordon Becksteads. His boots were frozen to his feet and he set them in a tub of cold water to draw the ice out before he could get them off.
Lines from my little book. "To over come self in the true spirit of manliness, no easy victory ever produced any great result. It is the hand to hand struggle that carries the field." -- Kris Well.
1884
The new year dawned on us all with sadness, Archie haveing been frozen, was taken to Logan where he could receive treatment. Lydia and the children also went and she took down with inflamatory rheumatism at her mother's. He suffered very much one week and then his feet were amputated. (leaving only ankles and heels.) He came near dying after that. He suffered so much. Then he took a turn and became a little stronger and his little finger on each hand was taken off. He was a long while getting nursed back to health. Brother Hugh H. Adams was his nurse and prooved to be a good one.
The church stepped in and rented a house for them in town and took care of the family. Business men in town contributed $175.00 for their welfare.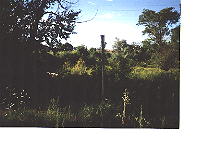 Worm Creek
Ozro did all Archies chores and our own and could not leave to haul fire wood so he cut and hauled willows from Worm Creek near by then cut them up to burn. Our well went dry and there was no one to help him clean and dig it out so we melted snow for every thing. On the 18 Jan. My sister Ida and her baby, Hugh R. a year old came by train to stay a while and help me. Ozro O. met them at the Preston Station. Her husband was nursing Archie. She only stayed a few days her breast geathered and I was not well so was unable to nurse her so she wished to go back to Logan and Ozro O. took her to the station.
On Jan. 19 Saturday evening at 8 O'clock another little stranger came to gladen our home, another dear little boy. When hew was eight days old, his papa blessed and named him Edwin Alvin Crockett.

On the 21 of Jan. Ozro's brother Willie

came up to help Ozro with Archie's chores. He brought us a nice new quilt and some nice things to eat from Ozro's dear mother. She is always very kind and thoughtful about her children.
Willie had helped Ozro on the farm during the past summer and fall. He was surly welcome. We were very much in need of help. Sister Emely Fellenla helped us a lot and she did several washings for us but we could not get a girl to do the house work so I got out of bed when bay was ten days old and started to work trying very hard to not do too much. The winter passed at last and had been a hard one. In the spring Ozro plouged and planted garden.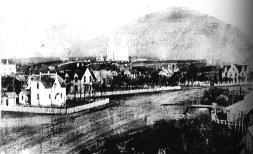 . .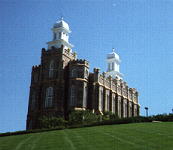 Photo taken on day of Logan Temple dedication ------- Logan Temple 1995
On the 16th, 17th, and 18th of May the Logan temple was dedicated. There were thousands of Saints there from Utah and Idaho and wonderful services were held each of the three days of dedication. After the meetings, President John Taylor and the Twelve Apostles took the lead and each congragation would follow them and they marched through rooms and halls all through the temple. [fn24]

I wanted very much for us to attend one day at least, and we missed a lot by not going, but Ozro had made up his mind to plant his corn on those three days so we stayed at home. The corn came up and grew but our neighbors stock would break in thru the fence all summer and ate and destroyed it all. So we had no good from corn planting that year. [fn24.1]

I had a trip to Logan in June and the folks see our new baby boy Edwin and were pleased to see him. Ozro O. bought a good cow of Gorden Beckstead our neighbor for 35.00 and hauled fire wood to pay for her. He bought her so we could have milk for baby Edwin. Also hauled enough wood to last us all winter. There was no water brought on the farm and Ozro continued to work on the canal whenever he could, sometimes running out of food, and would have just bread and molasses to eat.
On 9 Nov. just before day light we felt an earth quake it woke us up stoped the clock frightened all the chickens out of their coop and they ran off in all directions cackeling. We were all pretty badly scared. The dishes in the cupboard rattled also.
Oct 30 Sister Ida, husband and boy baby moved to Rexberg Idaho. They stoped on their way and visted us.
Sometime in Nov. Ozro wrote out an agreement and bro. Lalateen signed it that his son Fred 14 years should live with us untill he was 21 years of age. He had been working for Ozro since the middle of May. Ozro was to board clothe and school him. We like him very well.
In Nov. Ozro applied for a recoment for me to go in the Logan temple and be sealed to my parents. We received the recoment and I had the sealing done. During the past summer we had tryed to attend to our meetings and church duties, in the past few years we had grown quite careless. We now attend quite regular to our meetings and feel much better for doing so. I have joined the Relief Society of Preston and feel quite interested in it. They held one sewing meeting at our house last Oct.
This year we raised 265 bu's of Rye, 215 bu's. potatoes, mellons all we wanted to eat and to sell most delicious. We had a fine garden. We raised a good many nice chickens so we were quite encouareged after all.
Bro Charley was married 18 of Sept. this year to Alvira Stout of Big Cotton Wood Utah from the Holliday Ward. They were married in the Endowment house Salt Lake City. That is where Hugh J. Adams and Ida were married also on the ---.
Well xmas is coming and our little children are talking of Santa Clause, all excited. Ruth A. is now 5 years of age, O. is three years, Edwin A, is eleven months. He has been walking alone for over one month.
25 Dec. we were invited to eat Xmas dinner with brother Alvin D. and Sister Emmas and their family. Lydia, Archie, and children were also there. We enjoyed the dinner and had a nice sociable time.
26 Dec. our wedding anni. again. We invited Archie, Lydia, Alvin D, Emma and all the children to eat dinner with us. We had a very nice time and that evening we were all invited to a surprise party on Joseph Sharp sen. We went they danced sang and recited. We all enjoyed the evening very much.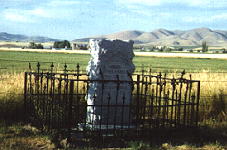 . .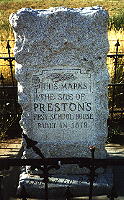 Site of Old Meeting House --------- Monument
We have a new meeting house on Main St. Preston. The old meeting house across Worm Creek has been taken down and put with the old school house on State or Main St. (all logs). [fn24.2]

They remodled added to and have built and finished off. We are all quite proud of our new meeting house. There is to be an invitation party New Year eve in the new meeting house free to all. Archie, Emma, I have been asked to sing and Ozro and Lydia to recite. We promised and our names are on the programs. We met at our house to practise.
During the past year Ozro and I have read quite a number of good books, namely Royal Path of Life, Cross and Crown, Education of the feelings, New Testiment, Book of Mormon, a great deal in the Bible and other books.
Ozro joined the young men's M.I.A. of Preston and is assistant Sect. They held their last meeting at our house. The meeting house was not finished. Dec. 29 Ozro has settled his tithing for 1884. It was $35.31.
On the last night in the old year Ozro and I attended a picknic party in our new meeting house and we had the program dance and refreshments. Had a lovely time. Ozro and me feel that the Lord has blessed and prospered us thru the past year and we are very greatful for the same.
Will end the year by writing a few lines from my little book.
"he who gives pleasure meets with it; Kindness is the bond of friendship, and the book of love; he who sows not, reaps not." -- Smiles.
Next Page