Places
---
Arimo, Idaho was about ten miles north of Cambridge.
---
Ruth's son, Edwin and family lived in Bancroft, Idaho which was about twenty miles from Ruth's home in Cambridge. The population of Bancroft in 1980 was 505. The elevation of Bancroft is 5425.
---
Beverley is the town in England where the Clarkson family once lived. The county of Yorkshire, England is divided into three Ridings, East, North and West. Beverley is famous for being the home of the Beverley Minster, the finest Gothic church in Yorkshire, which was built in the 13th century. A great college was built in Beverley in the year 700, by the archbishop of York. The city had three famous hospitals and two friaries, so it once was a rather large city. During Robert's time, it was a pretty town with a large market and four parishes with a population of about 10,000 people. The town is at the east foot of some hills called the Wolds, and is about a mile west of the Hull River. The country to the east is flat, but the parts adjacent are fertile and well-wooded. All was anciently swampy; then covered with forest; later cleared for fuel and for cultivation. Around Beverley, fragments of chalk cliff can be seen, relics of the original coastline. The town is surrounded by common pastures. Beverley today ranks as one of the more gracious towns in all England.
---
Cambridge, Idaho is about 32 miles north of Preston. In 1909, Ozro and Ruth moved to Cambridge from Red Rock which was closer to stores, school, and church.
---
Clifton, Idaho is a small town about five miles north of Dayton. Its elevation is 4873.
---
Dayton, Idaho was on the railroad line. Since there wasn't a direct train route from Downey to Preston, they would usually take the train from Downey to Dayton, which is about seven miles west of Preston. Then they would take a buggy to Preston. They could take the train all the way to Preston, but this involved going far south to Cache Junction, in Utah and then heading north to Preston. The elevation of Dayton is 4772 feet.
---
Dingle Idaho is located about 30 miles east of Preston, just north of Bear Lake. The elevation of Dingle is 5952 feet.
---
Downey, Idaho is about 30 miles north of Preston. Ozro and Ruth moved to Red Rock in 1908 which was seven miles south of Downey. In 1909, they moved closer to this town on the railroad, to Cambridge which is 3 1/2 miles north-east of Downey. The population of Downey in 1980 was 654.
---
Franklin, Idaho is located right on the Idaho/Utah border, seven miles south of Preston.
---
Grace, Idaho is located about 25 miles north east of Cambridge.
---
About 8 1/2 miles south of Beverley is the city of Hull. Hull was a large city of 95,000 people. Its official name is Kingston on Hull. The River Hull joins the Humber at Hull, which was and is Britain's third largest port after London and Liverpool. Many Elders of the church would come to Hull to board ships which would take them to their European missions.
Hull stands on flat and very low ground, close to the Humber, and partly on the east side of the Hull River, but chiefly on the west side. The country around it for several miles is so low and flat that what would elsewhere be called a swell or rising-ground, ranks there as a good sized hill. There is scarcely any wood except a few scattered trees. In 1830, Hull was a clean, pleasant city with no signs of beggary or filth. But by 1850, the city had assumed the appearance of a gigantic slum, which would remain with little change for the next fifty years. In addition to its natural increase, the town had received newcomers from Yorkshire and Lincolnshire, and it was noted that most of the new arrivals, and especially those from Ireland, would work for wages lower than those which had been customary. In addition to shipping, Hull had a rapid growing cotton industry.
Today, Hull is the home for the University of Hull.
---
Like many other communities in the west, Idaho Falls began as a crossroads to elsewhere. In the 1860's, freighters, packers, and prospectors traveling north from Salt Lake City to gold mines in northern Idaho and western Montana crossed the Snake River in the vicinity of present-day Idaho Falls. In 1865, the settlement of Idaho Falls (then called Eagle Rock) began with a log bridge across the Snake, a small store, and soon the first bank chartered in the state. During the 1880's, the earliest business district grew to the immediate east of the bridge and south of present-day Broadway Avenue. The first business buildings were frame or log, fronting on board sidewalks and dirt streets. As Idaho Falls began to develop into an agricultural community and grew to 1,300 residents at the turn of the century, these buildings were replaced by stone and brick commercial buildings, still fronting on boardwalks and dirt streets.
As the first business district was changing character, it was also growing north - to Broadway, A, and B streets, the core of todays's central business district.
No buildings from the first business district of the city survived but several of the city's prominent buildings built in the period from 1894 to 1940 have been preserved and are now listed in the National Register of Historic Places. The buildings are varied in style, bulk and materials. One reflects the early local materials that once dominated the central business district; others reflect the growing sophistication of a community moving from a cross roads to the economic, cultural, and governmental center of a region built on irrigated agriculture.
---
These springs used to be called Demsey Hot Springs. Lava Hot Springs is the site of a famous hot springs that doesn't smell of sulfer, nor contains chlorine. The Indians believed it had healing powers. Today it is a modern health spa. It is about 15 miles north of Cambridge. They would bath in the springs often to help their aches and pains. Ruth's granddaugher drown here, when she was eleven.
Bed and Breakfast in Lava Hot Springs.
---
Lewiston, Utah is located ten miles south of Preston, Idaho, just over the Utah border.
---

Logan City was located by Peter Maughan in the spring of 1859. In 1860 the site was surveyed, divided into four wards in 1861, and incorporated in 1866.
Modern Logan
Utah State University
---
Lone Pine was located up a canyon from Red Rock, about ten miles from Cambridge.
---
Oxford, Idaho is a small town between Preston and Cambridge. Its elevation is 4798.
---
William H. Head built the first log house in this area in 1866 which was known then as North or Head meadows and over the next ten years several famililes established homes in the vacinity east of Worm Creek. The first home that was built on what became know as Preston Flat, was the home of Israel West, and was located on 3rd South at 150 East. Railroad construction work extended north from Franklin in 1877. With the railroads came many families and the settlement was known as "Worm Creek."
On May 14, 1881, a special meeting was held in the School House. Some of the church leaders in Salt Lake City objected to the name "Worm Creek" as pertaining to any church organization. They thought that a more appropriate name should be given to the ward because they were not in favor of the name "worm" being used when it pertained to anything connected with the church. Mrs Rachel Porter, the wife of Bishop Nahum B. Porter suggested the name "Preston" in honor of William B. Preston, the president of the stake, the Cache Stake.
Preston is located near the Idaho/Utah border. The population of Preston in 1980 was 3759. The elevation of Preston is 4718.
---
In 1908, Ozro and Ruth moved to Red Rock which was about 25 miles north of Preston, and seven miles south of Downey.
---
When the Clarksons arrived in 1860, they found a beautiful, well-kept city with a population of about 8,200. One third of the population consisted at this date of emigrants from Great Britain. By 1870, 65 percent of the population were foreign born. The streets though unpaved and without sidewalks, were lined with cotton-wood and locust trees, acacias, and poplars. Most of the private houses were still of wood or adobe, some few only being of stone. Nearly all were surrounded with gardens in which fruit and shade trees were plentiful. At this date, the entire city, except on its southern side, was enclosed by a wall some ten or twelve feet high, with semibastions placed at half musket-range, and pierced here and there with gateways. The wall was built in 1853. It was built as a defense against the Indians, but some say it was built only because the people wanted work. It was of mud mixed with hay and gravel. By 1860, it had already begun to crumble, and in 1883 there were few traces of it remaining.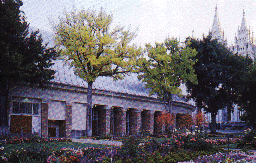 Modern Salt Lake City
Utah Information
Utah Resources
---
Swan Lake, Idaho was a small town that had a store and post office, and was the nearest place to shop when Ruth and Ozro lived at Red Rock, four miles away.
---
Treasureton, Idaho was located about 20 miles south east of Cambridge.
---
Terms
---
A cooper makes or repairs casks and barrels.
---
People
---
Hugh James Adams married Ruth's sister, Ida Clarissa Clarkson on Nov 17, 1881.
---
Rachel Cambel was a lady in Logan who Ruth lived with, for a time.
---

Abraham Hoagland Cannon was the son of George Q. Cannon and Elizabeth Hoagland Cannon. At the age of 23 in 1882, he was sustained as one of the First Seven Presidents of the Seventy. In 1889, he was ordained an apostle. He died at the age of 37 in 1896. (1995-1996 Church Almanac)
---
Elizabeth Hoagland Cannon was George Q. Cannon's first wife. Ruth was very close to her and worked for a time in her home. In 1869, there was a movement to grant women the right to vote in Utah. Non-mormons hope that this would be a method of suppressing Polygamy. The Mormons overwhelmingly supported this movement. Elizabeth Cannon was part of a delagation of women who tendered their thanks to the Utah legislators for this right. Acting Governor Mann was the first executive to sign a suffrage bill in the United States. (CHC 5:325-6)
---

George Quayle Cannon was born 11 Jan, 1827 in Liverpool, England. He was ordained an apostle 26 Aug, 1860 and served in the First Presidency of Brigham Young, John Taylor, Wilford Woodruff and Lorenzo Snow. Ruth's uncle, William Lark worked for George Q. Cannon for a time in immigration. Elder Cannon served prison time for polygamy.
---
John W. Cannon was a son of George Q. Cannon. In 1885, he was voted to be on a delegation with his father and apostle John W. Taylor to take the church's formal protests before the president of the United States, Grover Cleveland. (DHC 6:151)
---

Charles O. Card was the superintendent of the contruction for the Logan Temple. He later was a leader in 1887, a group of Saints mostly from Logan, established a settlement on Lee's Creek in southwestern Alberta, Canada. Eventually this community would be named Cardston in honor of Charles O. Card, their first leader.
---
George Carver was a member of the church in Preston. He clerked in the store when Ruth Ann Clarkson did too. Ruth Ann was brought into his house when all the clerks caught small pox. George became the bishop of Preston 3rd ward in 1902.
---

Thelma Chadwick was Ruth Ann Crockett's daughter.
---
Wilora Chadwick was the daughter of Will and Ruth Ann Crockett Chadwick. She drown when she was only twelve.
---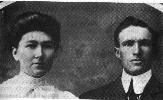 William Chadwick was the husband of Ruth Ann Crockett. He died from an accident in 1907.
---
Alvira Clarkson, daughter of Charles Robert Clarkson and Alvira Stout was born July 9th, 1885. She married Fred Parker.
---
Charles Robert Clarkson was Robert Clarkson's son He grew up to be a fine boy, married Alvira Stout of Holladay in the Endowment House, and raised a large family. Alivra Stout was the daughter of the famous Mormon Pioneer, Hosea Stout.
---
Hannah Hough was a Danish widow who was Robert Clarkson's third wife. Her first husband named Odean Hough died at Salt Lake City. She raised Ruth and Ida and her daughter Minnie after Robert's death.
---
Ida Clarissa Clarkson was Ruth's younger sister. She succeeded Ruth has the Cannon house keeper.
---
Robert Clarkson was Ruth's father who joined the church as a teenager in Beverley England. After he finished in employment obligations, he married Ann Clegg and immigrated to Utah. He died while Ruth was still a young girl. He left an interesting journal which is available on-line.
---
Sarah Dowell, Robert Clarkson's house keeper for own week, was the widow of a Mr. Rogers. Robert married her quickly after the death of his wife, Ann Clegg.
---
Ann Clegg, Robert Clarkson's wife, was the daughter of Nathaniel Clegg and Ann Leaf Clegg. Ann was the 9th of 10 children. When she was born, only four children were still living. Mary, age 3, and John, age 2, the first two children died the same year in 1817. William died shortly after birth in 1822, and Elizabeth died at age 10 months. When Ann was born in 1832, her bothers and sisters were: Mary, age 13, Hannah age 11, William age 8, and John age 6. John drowned a few years later. Elizabeth, the last child was born in 1833 when her mother was 45 years old. The Clegg ancestors came from Wakefield, the center of the clothing trade, located in the West Riding of Yorkshire.
Ann's brother William, was the first family member to join the church, soon to be followed by Ann and her parents. Hannah joined in 1853, and Elizabeth joined many years later in 1889. Elizabeth's first husband Richard Ridsdale probably had no interest in the church, but when Elizabeth was married to her second husband Richard Foster, she and her children joined the church in Hull. Mary had already married when the gospel was received in the Clegg home, and there is no indication that she ever joined the church.
---
William Clegg was the first of the Clegg family to join the church, being baptized in October of 1850. He wrote much poetry, often published in the church's Millenial Star. After he emmigrated to Utah around 1864, he would travel around taking orders on a book of poems he wished to publish. He was eight years older than Ann (Robert Clarkson's wife). He died in 1903 at the age of 81.