---

Alvin Crockett was the father of Ozro Ozias Crockett.
In the early spring of 1860, Alvin and family and moved to Logan, Cache Valley, Utah. Alvin and family settled in the Logan Fourth Ward on the lot where the Benson School house is now located. There were then four children in their family. Alvin built a three-roomed log house on the north west corner of the lot pretty close to the street on the north and west (corner lot). The house faced the south. The family lived there eight years.
The principle of plural marriage was believed and practiced by the Latter Day Saints in those early days, and about the year 1867, Alvin obeyed that principle and married Miss Annie N. Peall. In the spring of 1870 the family moved to what was then the south part of Logan, what was called the Island. It was also part of the first ward of Logan.
Alvin served as mayor of Logan city four years for which he received $2.00. He was County Sherriff for 20 years, most of which time he was also Chief of Police of Logan City, Utah. WHen Cache Valley was organized a Stake of Zion, Alvin was one of the first to be ordained a High Counselor and served in that capacity up to the time of his death, July 9, 1902.
In the year 1872, Alvin went on a mission for six months to the Fox Islands, Maine, which he filled in honor.
---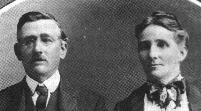 Alvin David Crockett was Ozro Ozias Crockett's brother. He was born in 1854 at Payson, Utah. In 1876 he married Emma Hodges. Their first four children where born in Logan. They moved to Preston, Idaho and lived there until about 1895. He served as justice of the peace in Preston and as a counselor in the bishopric for several years. His wife, Emma died in 1900, leaving then children. He next married Sarah Magghan Robbins who help raise his children, dying twelve years later. In 1914 he married Amelia Howell. They added two more children to their family, the last son born when Alvin David was 63. He died at the age of 89 in Preston.
---

Bell Crockett was the wife of Ozro's brother, George Emer Crockett. She was a close friend of Ruth's, living in Preston for a time. She died in 1940.
---
Clara Pratt was Ozro David Crockett's first wife. They served a mission together in the Southern States. They were divorced in 1913.
---

Clyde Crockett was the grandson of Ozro and Ruth Crockett, the son of Edwin Alivin Crockett. He was born in 1903, and in 1927 married Edna Audstin. They settled in Salt Lake City, Utah. He died in 1979.
---

Earl was the eleventh child born to Ozro and Ruth Crockett. He was born on 13 May 1903. Earl met Della Comish at the "Tech" University in Pocatello where they were preparing to teach. They were married in 1925. They taught school and Earl earned his Ph.D in economics in 1928 from the University of California. They then moved to North Dakoka where he taught at the university. After three years and a brief stop in California, they settled in Boulder Colorado where he taught for 23 years. They then lived in various places world-wide as Earl had several economic positions. In 1957, Earl accepted a position at BYU as Academic Vice President. In 1964, he was the acting president of BYU. He retired from the university and died in 1975.
---

Edna was the sixth child born to Ozro and Ruth Crockett. She was born on 4 Mar 1890. After graduating from the Onieda Stake Academy, Edna clerked in stores for three years. In 1909 she married John T. Stoddard and raised a large family of twelve children. They lived most of their lives in Idaho and in 1939, they moved to Salt Lake City. She died at the age of 99 in 1990, the last of Ozro and Ruth's children to pass away.
---

Edwin was the third child of Ozro O. and Ruth Crockett. He was born on 19 Jan 1884. On 3 Nov 1902 he married Zulena Louise Peterson. At the age of 13, he worked for Merrill Brothers Creamary and drove a team from Preston to Richmond each day hauling cream and cheese. He worked for a sugar beet company at the age of 17. On 3 Nov 1902 he married Zulena Louise Peterson. In 1907 he went on a mission to England, serving for a time as the president of the Liverpool Conference. They lived most of their lives together in Preston where he worked as Production Distributor for Utah Oil Refining Co. He served two terms as the mayor of Preston. He died in 1969.
---

Elva was the tenth child born to Ozro and Ruth Crockett. She was born on 29 Sep 1901. She attended school in Preston and taught school in Lund, Idaho in 1920-21. In 1921, she married Leo Reddish in 1921 and they made their home in Lund, on a farm for twenty years. In 1941 they moved to Bancroft, Idaho where Elva taught school and Leo operated a Pharmacy. In 1951, they bought a house in Florida spent winters there until 1958. She died in 1981.
---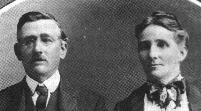 Emma Hodges was the wife of Alvin David Crockett. They settled in Preston Idaho, where Ozro and Ruth lived. She died in 1900.
---
Lillian Crockett was Ozro and Ruth's niece, the daughter of Ozro's brother, Alivin David Crockett. She was 15 at the time she stayed with the family in Preston. Her family also lived in Preston during this time, but probably not as close to the school. She later married Olof Christensen, again lived with Ozro's family in 1901 and died in 1912.
---

George E. Crockett was Ozro's younger brother. He married Isabelle Elizabeth Adams in 1889. They lived in Whitney, Idaho and for a short time in Logan. George was sheriff of Oneida County in 1908 and a judge for several years. He served two terms as mayor of Preston in 1921-25. He was elected for two terms as State Senator from 1924-1928. He died in 1940.
---

George was Ozro and Ruth's fourth child. He was born on 12 Mar 1886. attended the Oneida State Academy and later served a mission to the Southern States. He later married Estella in 1908. He went into law, practicing in Idaho. During World War I, he gave up law and the family moved to Portland, Oregon where he worked in a defense plant, building ships. They raised five childrent and lived most their lives in the Portland area. He died in 1940.
---
Henry W. Crockett was Ozro's half brother, twenty years younger than Ozro. He died in 1922 of a burst appendix.
---

Hyrum was Ozro's younger brother, born in 1973. He was employed by the First National Bank of Logan for twenty years. He left the bank to operate a dairy farm. In 1920 he was elected the Secretary of State of Utah and served in that office for eight years, moving to Salt Lake City. He died in 1935.
---
Ivy was the daughter of Ozro's brother, Alvin David. She was born in 1884, so she was six when she came down with the measles. She married John Kofoed in 1907.
---

Jennie was the eighth child born to Ozro and Ruth Crockett. She was born on 1 Jun 1894. She went to school in Preston, and then trained to be a nurse in the LDS Hospital, in Salt Lake. She continued her nursing career in Salt Lake and Portland Oregon. In 1928, she went to the Philippine Islands where she met and married Maurice Alger who had two children. They left before Pearl Harbor was bombed and moved to Florida where her husband died in 1961. She died in 1975.
---
John Alvin Crockett was Ozro's half brother. He was born in 1874 and was a lifelong resident of Logan. He served as mayor of Logan. He married Anna Hansen in 1895 and died in 1948.
---

Lucille was the nineth child born to Ozro and Ruth Crockett. She was born on 12 Apr 1896. She attended school in the Grant Ward where her brother George was teaching school for a year. In 1925 she married Ernest Salverson who was in the cattle business. In 1934 when they moved to Twin Falls, Idaho. She died in 1939.
---

Lydia Lovera Crockett was Ozro Ozias Crockett's sister, and close friend of Ruth Clarkson. She married Archibald Orrell Lamoreaux on the same day the Ruth and Ozro were married. For years she suffered from inflammatory rheumatism, caused, it was said, by getting wet when a wagon tipped over dumping her into a puddle of water when she was eight year old. She also suffered from an organic heart ailment. In 1894, they settled in Gila Valley where they lived for 25 years and then they moved to Mesa Arizona in 1928. She died in Phoenix in 1930.
---

Mabel was the seventh child born to Ozro and Ruth Crockett. She was born on 27 Mar 1892. She studied dress making and became a good dress maker. She worked at the Foss Brothers clothing store for four years. In 1923, she married John A. Kofoed after he returned from World War I. Much of her life, Mabel suffered from arhritus and for many years was confined to a wheelchair. She died in 1964.
---

Mary Crocket was the fifth child of Ozro and Ruth Crockett. She was born on 12 Feb 1888. She married Luther Neufer in 1911 and they moved to Oregon in 1922. They raised seven children. She died in 1947.
---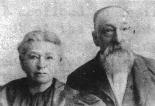 Mary Sophia Reed was Ozro O. Crockett's mother, the daughter of Tillison Reed and Delia Deliverence Byam, who were married in New Hampshire. They had eleven children born to them. Mary S. Reed was their youngest child. Her father Tillison Reed came of a family of thirteen, he being the fourth child. They received the Gospel and he and his family gathered with the Saints in Missouri. He died there August 21, 1836.
His daughter Mary S. Reed, her mother, brothers and sisters journeyed to Utah arriving at Salt Lake City, Utah August 1848. Mary S. was then fifteen years of age. They suffered many hardships in those pioneer days. Food was very scarce. They dug segos and ate them for vegetables, and when they go a little corn, made hominy of it, and Mary S. would eat one kernal at a time with a pin to make it last longer. She just had a hallf teacup full at a time, took it to school with her and ate it for her dinner. When the widowed mother and children were living at Salt Lake City, her daughter Mary S. worked in the Raleigh family.
After her marriage to Alvin Crockett, she lived and kept house at Payson, Utah. Her mother also moved to Payson with her children and later married a widower who had a family of children, his name was Nahum Curtis. She herself had six children at home. He died seven years later. She died 20 years later at her daughter, Mrs Alvin Crockett's home at Logan, Utah.
Mary S. Reed was the first school teacher at Payson, Utah.
---
Victor Crockett, Ozro's uncle, was born in 1850. He married Nondia Earl and they had eight children. He died in 1918.
---

Ona Crockett was the grandchild of Ozro and Ruth Crockett, the daughter of Edwin Alvin Crockett . She was born in 1906, and married Phenoi Edgley in 1928. They settled in Preston, Idaho. Her husband served as bishop and stake president.