Places
---
Auburn, Rhode Island is a town Ozro preached in located about five miles south of Providence.
---
Cambridge is separated from Boston by the Charles River. It was incorporated as a city in 1846, and at the time Ozro was there, it had a population of 81,000.
---

Logan City was located by Peter Maughan in the spring of 1859. In 1860 the site was surveyed, divided into four wards in 1861, and incorporated in 1866.
Modern Logan
Utah State University
---
North Haven is on the northern Fox Island. Of this area, Wilford Woodruff said in his journal in 1837: "North Fox Island is nine miles long by two miles in width, and had a population of eight hundred. They had a Post Office, one store, a Baptist Church and a meeting house, four schoolhouses, and a tide grist mill. The land is rather poor, yet there are some good farms, The products are wheat, barley, oats, potatoes, and grass. The principal timber consists of fir, spruce, hemlock, and birch. Raspberries and gooseberries grow in great abundance, and some upland cranberries are raised. The principle stock are sheep."
---
Norwood, Rhode Island is a town Ozro preached in located about seven miles south of Providence.
---
Preston, Idaho, on Worm Creek was settled in 1879. It was first called Worm Creek and later named after Presiding Bishop William B. Preston. Nahum Porter was named the first bishop in Preston. Preston is located near the Idaho/Utah border. The population of Preston in 1980 was 3759. The elevation of Preston is 4718.
---

Providence is located in Rhode Island. Founded in 1636 by Roger Williams, a heretic exiled from Puritan Massachusetts, the city and state have a history of religious and political tolerance with a seafaring, textile mill, and industrial base. This led to the first Jewish synagogue and Baptist church in America, large Quaker and Catholic populations, and openness to generations of immigrants. The result today is the second-largest city in New England (pop. 160,000), with intact ethnic communities,
Map showing Providence.
Page on Providence.
Points of Interest in Rhode Island
Brown Univeristy in Providence
University of Rhode Island
Rhode Island home page
Regional information around Providence
---
Rockland, Maine is a city on the coast of Maine, where you catch the ferry to go to Vinal Haven. During its heyday, htere were at times, 250 ships in the harbor. At the turn of the century, when Ozro was there, more than half of the 14 million pounds of lobster taken from Maine waters came from Rockland.
---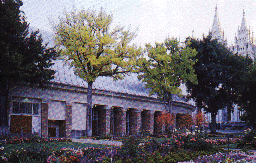 Modern Salt Lake City
Utah Information
Utah Resources
---
Vinalhaven is located on the southern Fox Island. Of Vinal Haven, Wilford Woodruff mentioned in his journal in 1837:
"The population numbered, at the time of my visit, about eighteen hundred. The inhabitants were intelligent and industrious, and hospitable to strangers. They got most of their living and wealth by fishing. The town fitted out over one hundred licensed sailing vessels, beside small crafts.
"South Fox Island comes as near being without form as any spot on earth I ever saw. Difficult to describe. It is about ten miles in length by five in width, and is a mass of rocks, formed into shelf hills, and valleys, and cut up into necks and points to make rooms for the coves and harbors that run into the island. The population one thousand. The inhabitants get their living entirely by fishing. There is no chance for farming upon the island. There are a few garden patches which are cultivated by great expense. Some few sheep are raised there. Many of the inhabitants fish in the vicinity of Newfoundland, and bring their fish home where they cure them on flakes and prepare them for market. They supply the market with great quantities of cod, mackerel and boxed herring. Upon this island there are two stores, three tide mills, six schoolhouses, and a small brace of the Methodist Church presided over by a priest."
---
People
---
Elder Enoch Carnia served with Ozro in the Providence area for a time. He was first assigned with Elder Wallace to Massachusetts, probably because he had relatives there, but he then came to Providence before Ozro was transferred to Maine.
---
Elder Cowley was born in 1858. He was made an apostle in 1897 and resigned from the council in 1905 because he had performed plural marriages after the manifesto. He was restored to full membership in 1936 and died in 1940.
---

Alvin Crockett was the father of Ozro Ozias Crockett.
In the early spring of 1860, Alvin and family and moved to Logan, Cache Valley, Utah. Alvin and family settled in the Logan Fourth Ward on the lot where the Benson School house is now located. There were then four children in their family. Alvin built a three-roomed log house on the north west corner of the lot pretty close to the street on the north and west (corner lot). The house faced the south. The family lived there eight years.
The principle of plural marriage was believed and practiced by the Latter Day Saints in those early days, and about the year 1867, Alvin obeyed that principle and married Miss Annie N. Peall. In the spring of 1870 the family moved to what was then the south part of Logan, what was called the Island. It was also part of the first ward of Logan.
Alvin served as mayor of Logan city four years for which he received $2.00. He was County Sherriff for 20 years, most of which time he was also Chief of Police of Logan City, Utah. WHen Cache Valley was organized a Stake of Zion, Alvin was one of the first to be ordained a High Counselor and served in that capacity up to the time of his death, July 9, 1902.
In the year 1872, Alvin went on a mission for six months to the Fox Islands, Maine, which he filled in honor.
---
Elizabeth Ingersoll (or Ingerson) Crockett was the wife of Oliver Crockett, the brother of Ozro's grandfather, David Crockett. Oliver was born in 1816 and died in 1890. He married Elizabeth in 1841. They lived at Crockett's Point, on Vinalhaven Island.
---

Ozro David was the second child born to Ozro O. and Ruth Crockett. He married first, Clara Pratt in 1901 and second, Pearl Holm in 1919. He served a mission to the Sourthern states shortly after his first marriage in 1901. In 1907 he was employed as a U.S. postal letter-carrier and served in the job until 1931. In 1918, after his divorce he enlisted in the Army and was discharged when WW I ended. David obtained a law degree, and began practicing law in Utah in 1921. He organized the first credit union in the State of Utah in 1927, in the Post Office. He lived most of his life in Salt Lake City.
---

Lucille was the nineth child born to Ozro and Ruth Crockett. She attended school in the Grant Ward where her brother George was teaching school for a year. In 1925 she married Ernest Salverson who was in the cattle business. In 1934 when they moved to Twin Falls, Idaho. She died in 1939.
---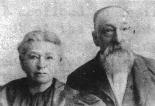 Mary Sophia Reed was Ozro O. Crockett's mother, the daughter of Tillison Reed and Delia Deliverence Byam, who were married in New Hampshire. They had eleven children born to them. Mary S. Reed was their youngest child. Her father Tillison Reed came of a family of thirteen, he being the fourth child. They received the Gospel and he and his family gathered with the Saints in Missouri. He died there August 21, 1836.
His daughter Mary S. Reed, her mother, brothers and sisters journeyed to Utah arriving at Salt Lake City, Utah August 1848. Mary S. was then fifteen years of age. They suffered many hardships in those pioneer days. Food was very scarce. They dug segos and ate them for vegetables, and when they go a little corn, made hominy of it, and Mary S. would eat one kernal at a time with a pin to make it last longer. She just had a hallf teacup full at a time, took it to school with her and ate it for her dinner. When the widowed mother and children were living at Salt Lake City, her daughter Mary S. worked in the Raleigh family.
After her marriage to Alvin Crockett, she lived and kept house at Payson, Utah. Her mother also moved to Payson with her children and later married a widower who had a family of children, his name was Nahum Curtis. She herself had six children at home. He died seven years later. She died 20 years later at her daughter, Mrs Alvin Crockett's home at Logan, Utah.
Mary S. Reed was the first school teacher at Payson, Utah.
---
Ruth Clarkson was born 12 Sept 1857 in New York City. In 1860, her family, as Mormon Pioneers, traveled by wagon train to Salt Lake City. Her parents both died during her childhood and she was raised by her step-mother. As a young lady, she worked in the home of George Q. Cannon in Salt Lake. In 1878, she married Ozro Ozias Crockett. She left a very large journal of her life.
---
Wilford Woodruff Crockett was Ozro's Uncle. He was named by Wilford Woodruff. In 1897 he was also on a mission in the Eastern States. His family lived in the Gila Valley, in Arizona. He died in 1907.
---
Brother and Sister Denman were members in Providence. Meetings would be held over at their home. Sister Denman was baptized on May 15, 1897.
---
Jay W. Dunyon was a missionary that served with Ozro in Providence. He was from Draper, Utah.
---
The Frith family lived down by the river in Providence. They were very kind to Ozro and the other Elders. The Elders taught them the gospel and the Friths provided many meals and some lodging.
---
Alonzo P. Kesler was the president of the Eastern States mission. In February, 1898, a general conference of the mission was held with Apostles Francis M. Lyman and Matthias F. Cowley. On March 11, 1899, Alonzo was released as president, and replaced by Williamm H. Smart.
---
Elder Kinsman was from Salt Lake City and was the president of the Conference that Ozro served in when he first arrived on his mission.
---

Elder Lyman was born in 1840. He was ordained an apostle in 1880 and later served as president of that quorum in 1903. He died in 1916.
---
George C. Murdock was a missionary companion and close friend of Ozro O Crockett. Ozro O. would later visit Elder Murdock at his home in Idaho.
---
Mr. and Mrs. Nelson were a family in Providence who Ozro taught the gospel to, early in his mission. They were very kind to him and fed him well. Mrs. Nelson was baptized on May 15, 1897.
---
Mrs Pearson is a lady living in Fall River who Ozro baptized while on his mission. She was born in 1840, the daughter of Thomas and Sarah Fielding of Milrow, Lancashire, England. She had a son by the name of Mr. Hesketh.
---
Elder Spafford was Ozro's missionary companion in Fall River.
---
The Walch family lived in Providence and was a family that Ozro taught the gospel to.
---
Joseph Wallace was an Elder who Ozro worked with in Providence. Joseph fo a time worked in Massachusetts, but then came to Providence before Ozro transferred to Maine.
---
Charles A. Welch was a missionary that served with Ozro in Providence. He later served as second counselor in a new stake presidency, organized in Big Horn, Wyoming, in 1901. Parley P. Willey was from Bingham County, Idaho. In 1884, he was called as the bishop of the new Chesterfield ward.
---
The Whitcombs were the landlords for the Elders while they were staying in Fall River. They were receptive toward their teachings.
---
Levi Wooster was married to Sabra Crockett, the sister of Ozro's grandmother, Lydia Young. Sabra was born in 1820 and died in 1884. They were married on 31 Dec 1829.
---
James W. Young was born in 1826, so he was 71 years old when Ozro met him. He was the brother of Ozro's grandmother, Lydia Young who was the wife of David Crockett. James Young married Harriet Brown. In 1897, he lived on Vinalhaven Island, across from North Haven.