March 1853
Sunday March 5th. Went to Walkington

to Preach it being the first time of my going out among the people. [fn33]

About 30 people were present. I spoke about half an hour and then returned home for the afternoon meeting which comenced at 2-30, opened by my self. I then spoke awhile to the saints and administered the sacarament then left it for the saint to bear their testimonys. Prayer by myself. Evening meet at 6 O'clock meeting prayer by myself. While singing E. Wm Lark came in from Lockington. I first spoke a short time upon baptism for the dead. Then E. Wm Lark spoke whipped the saints for neglect of duty & then spoke on above subject. Prayer by Bro. Lark.
Note. For 9 or 10 weeks previous to this I have been unable to attend any duties and consequently there is no recording.
June 1853
Tuesday June 7th. Pres J.T. Hardy & Elder Jacob Foutz Secrist

came to Beverley (J.F.S had been appointed on a mission from the special conf.

held in Great S.L. City Aug 28, 1852 to Germany from whence he had been driven out by the athorities of the land [fn33.1]

& thus had been appointed to labor in the Beverley district of the Hull conf.) and at night we held a priesthood meeting at Bro. Larks house prayer by E. Secrist. We talked over the things of the kingdom of God & the welfare of the work in this part of the conference. Bro. Thos. Adamson was then ordained to the office of priest under the hands of Elders J.T.H. J.F.S & Wm L. Prayer by T.J. Hardy.
Wed 8th. Went to meeting. Prayer by E. Wm Lark. Pres. Hardy spoke and then E. Secrist made some remarks. Prayer by J.T. Hardy.
Thurs 9th. Went with elders Secrist and Lark to visit Bro. Clegg and family. When E.S. gave them some good teachings, we prayed with them & left.
Sunday 12th. Went to Walkington in connection with Priest Thos. Adamson. I opened the meeting by prayer and then T.A. spoke a short time. I also spoke, we had a very attentive audience. Prayer by myself. We then returned home and met at our meeting place of 2-30. Prayer by T. Adamson. E.S. Mickelethwaite from Hull then spoke a short time after which I administired the sacrament, the time was then turned over for the saint to bear testimonys. Prayer by myself. Evening services began at 6 O'clock. Singing and prayer by myself. Priest Joseph Reed of Hull spoke a few minuets then E.S. Mickelethwaite a short time. After which Pres. Wm Lark. Prayer by Wm Lark.
Wed morning 15th. At 4 A.M. Sister Martha Spencer died after a tedious illness of consumption. In the evening attended preaching meetting opened by Wm Lark who spoke most of the time. E. Secrist spoke a little. Prayer by myself.
Friday 17th. Untill breakfast time I worked then left for sister Spencer's funeral. We set off from Beverly 10-15 A.M.to Sighlisthorn where she was buried. 4 of the sisters went as bearers viz. Ann & Hannah Clegg, Sisters Clark & Adamson. We returned about 4-30.
Sat night 18th. Went with Priest Adamson to visit the saints we commenced at Bro. Larks about 8 O'clock. Went to Sister Allen & Nunn. Bro. Spencers & bro. Clegg. They were in fairly good standing tho not possecing so much of the spirit as they aught. We called twice at Sister Bradleys but she was not in. We returned home at 10-30 I feeling very ill.
Sunday 19 - Went to Walkington with T. Adamson to preach I oppend the meeting and then T. A. spoke a short time and I the remainder of the morning. There was a goodly attentive audience.
Sunday July 17 - 1853 Went to Hull with Wm Lark to Pristhood meeting we had a good day of it and returned home after night meeting.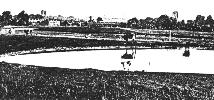 Westwood
Monday 18th. About 90 saints come from Hull to spend the day in Beverley Westwood.

J.T. Hardy, C.G. Webb, Elder Margetts, Elder Squires

from New Castle

J.F. Secrist & a host of the Priesthood they walked in procession thru the town singing at intervills. I left work at noon and went with sister sister A. Clegg & H. Clegg into Westwood but it started raining and kept all afternoon so we were disapointed. [fn33.2]

August 1853
Aug 1st 1853. Up to this time I have continued to preach in Walkington on Sunday mornings a goodly number generally assembled but no spirit of investigation was manifest whatever. So with the counsel of Presdt Lark & E.J.F. Secrist I gave up going after having born my testimony faithfully unto them.
August 14, 1853. Sunday 14th P.M. conducted meeting while bro Lark was at Lockington, but there were only 4 present I spoke a little administered the sacarement and then closed the meeting. Evening 6 O'clock there were only two or three came together so we turned the meeting into questioning etc. E. Wm Lark came in from Lockington about 7-30. We close at 7-30 after having enjoyed a good influence of the spirit & being edified with the questions. Prayer by E. Lark.
Wed 17th. Attended meeting at Elder Larks. Oppened by myself. Bros Secrist Lark & myself spoke we had a good meeting. Prayer by T. Adamson.


The Clegg Family's membership records recording that they moved into Hull
Saturday evening 20th A.C and I went to Hull to visit her parents found them in good health. [fn34]

Probably by this time, Robert and Ann are engaged. Mother being greatly recovered of an injury she had sustained upon her leg, Father had not been to the meetings since they had been to Hull. (They had been in Hull 3 or 4 weeks.) But he went with us to meeting on Sunday morning. In the afternoon A.C, H.C. & I went to the Hull cemetary [fn34.1]

returned and took tea started for Beverley about 6. P.M. arrived 8-30 after a pleasant walk.
Wed evening. Went to meeting opened by bro Lark E. Secrist & E Lark spoke awhile & then the meeting was closed after which we held a counsel meeting finishing about 10-30 P.M.
Saturday evening 27th. [fn34.2]

Went with Bro. Adamson to visit sister Allen found her in good standing.
Sunday 28. Meet at 2-30 P.M. but we were very few in number Bro Lark being at Lockington & Bro Adamson at Leven. I spoke a short while on the subject of Duty & obedence to the law of God etc. Administered the sacarament then the saints bore their testimoneys. We had a good meeting. Evening met at 7 O'clock Pres Lark spoke all the time.
Wednesday 31st. Attended meeting. Open by Pres. Lark. Prayer by E. Secrist. Prest Lark spoke a little & then left the meeting open to all. Bro Adamson, myself & Elder Secrist expressed our sentiments and then a man by the name of John Smith came in to see bro Lark the meeting soon closed then he conversed with us on the principals of the Gospel till nearly 2 O'clock, but did not make much out with him.
September 1853
Sunday Sept fourth. Pres Lark was at home meeting opened at 2-30 Wm Lark spoke then the sacrament was administered and the saints bore testimonies Benidiction by self. 6 P.M. meeting comenced by myself. Elder Lark spoke the whole of the time, prayer by myself.
Monday evening 5 O'clock. Left work at 8-30 O'clock as soon as I got home Elder Lark and second Priest Adamson & myself held a counsel upon the case of sister Jan Bradley for backwardness of duties & evil speaking for which she was excumunicated and also Priest Wm Czard of Welwang who after having ___ his master & repeatedly getting drunk had gone off and left his wife and family was cut off

the church. closed about 10-30 O'clock.
Sunday morning 11th. After breakfast I sat down to write to Geo. Ellis at Leeds but while I was writing he came in having come over on a trip. We took a walk together talked a little on gathering to Zion. He said of being baptized & going as he was happy traveling etc. & if all was not right there he then could but come back & so take me along with him but he would not go before his sister was married (they being orphans.) Afternoon met at 2-30 spoke a little to the saints and administered to the sacrament, testimoneys were then born. Evening met at 6. Oppened meeting and spoke a little then Bro. Lark returned from Lockington & spoke the remainder of the time.
Wednesday attended meeting at bro. Larks who spoke and we had a good meeting.
Sunday 18th. We fasted untill 3 O'clock meeting opened at 11 after meeting closed Elder Secrist left us & went to Leven to preach. We had a good meeting after which Bro Lark & family sister Allen, Ann Clegg and my self went and baptized sister Allen's daughter Marie. Elder Lark officiated. Met again at 6 P.M. and we had a good time.
Wednesday 21st. Attended evening meeting there were only a few present but we had a good time.
Sunday 25th It was a very wet morning at about 11 O'clock it cleared up a little. Then Wm Lark & myself went to Lockington. We reached bro.Richardsons a little after one O'clock after we had sang a hymn or two when two men came in. One was Mr. Ireland & the other Wilson but they would not talk so we went out to preach. I spoke first about 1/2 hour & then Wm Lark spoke we took refreshment at Bro Grays then returned home and found the saints met together Priest Adamson was speaking. Elder Lark then spoke awhile to the saints.
Next Page